---
Jessica Cejnar / Friday, Oct. 18, 2019 @ 3:49 p.m. / Community, Our Culture
From Haunted Manors to Escape Rooms: There's Plenty To Occupy The Mind In Del Norte This Halloween
---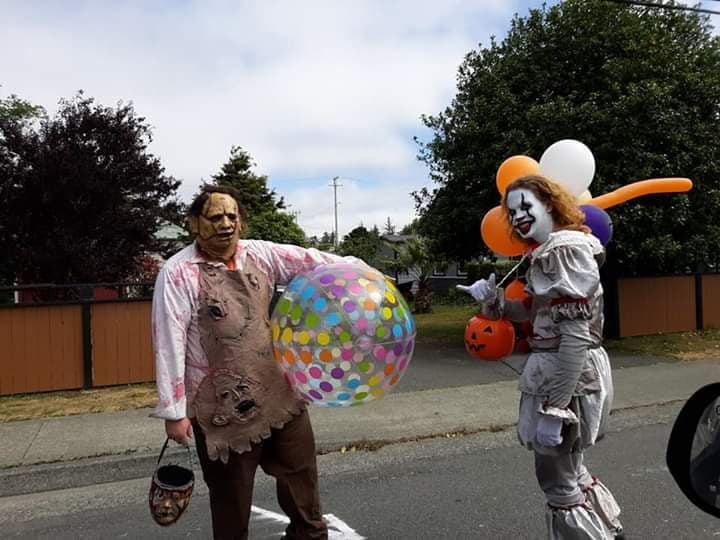 Del Norters wanting to get their Halloween started with a good scare, or maybe something to puzzle their minds, won't have to go far.
David's Haunted Manor is celebrating its 20th anniversary and opens at 6 p.m. tonight for small scares. Big scares start at 7 p.m. Incorporating 35 volunteer actors, the haunt features between 20 and 21 scenes, said Jo'Ann Holcomb, who runs the haunted house with her husband, David.
A new experience, The Laboratory, Crescent City's first escape room, made its debut earlier this month at the Family Resource Center of the Redwoods. The Laboratory centers on a mad scientist who has locked his staff away for trying to steal his secrets, FRC Executive Director Amira Long told the Wild Rivers Outpost.
The escape room asks players to solve a series of puzzles to rescue the scientist's team members, she said.
Long said her husband Matt has been visiting escape rooms in Portland, Eugene, San Francisco and San Jose. They recently took their two daughters to an escape room in Ashland, Long said. When brainstorming fundraising ideas for the FRC, Matt Long came up with the idea for an escape room, she said, because it's something new for Del Norte County.
Matt began sketching out puzzle ideas in January and started building them in the spring, Long said. In June, Matt Long wrote the back story.
"He just built it," Amira Long said. "It's challenging. We've had to give hints every time."
Proceeds from The Laboratory will benefit the FRC, which provides developmental screening for children ages 0-5, breastfeeding support for moms, family game nights and other programs for parents with youngsters.
According to Long, the FRC gets much of its funding through grants, but they pay for specific programs. First 5 Del Norte contributes to the FRC's general operating budget, she said.
Proceeds from the escape room will also go toward the FRC's general operating expenses, Long said.
Though the folks staffing The Laboratory have had to give hints to those who have experienced it so far, Long said people shouldn't feel bad.
"I've never gone through an escape room with no hints," she said.
The Laboratory also ends with a segue into another escape room the FRC is planning for the spring. Long said this one will have an archaeology theme.
The Laboratory has slots available on Saturday and Sunday, Long said. There will also be opportunities for people to participate Oct. 26-27 and Nov. 2-3. Long said the FRC is tentatively planning to provide folks another opportunity to experience The Laboratory on Thanksgiving weekend and during the Christmas vacation.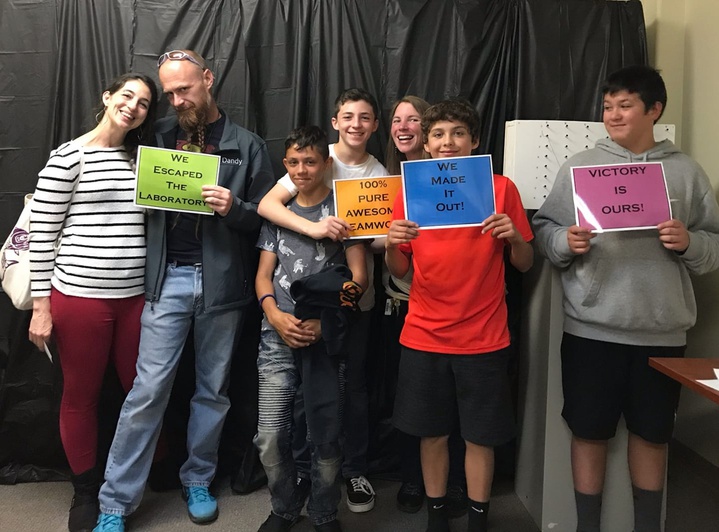 Admission is $20 per person. Reservations are required and spots aren't confirmed until payment is received. Payments must be made via cash or check, Long said.
To check availability of dates and sessions, call (707) 464-0955 or visit the FRC at 494 Pacific Avenue in Crescent City.

David's Haunted Manor
For those wanting to be challenged in a different way — that is, keeping their cool in the face of creepy clowns and gruesome monsters — should check out David's Haunted Manor.
Like the Laboratory, David's Haunted Manor is a family affair. According to Jo'Ann Holcomb, her husband creating his own props and monsters at his parents' house in 1999. David Holcomb has an affinity for the classic Universal Studios monsters such as Dracula and Creature From the Black Lagoon. "Killer Clowns From Outer Space" is another favorite of his.
"That's his very favorite movie ever," Jo'Ann Holcomb said.
For the first time this year, the Holcombs will allow those with sensory sensitivities to go through the Haunted Manor with the lights up and the sound lowered about 50 percent. Jo'Ann Holcomb said if this is well received, she'll offer that annually.
David's Haunted Manor has partnered with Friends of the Harbor for the past three years, Holcomb said. Half the proceeds will benefit the nonprofit organization that supports the Crescent City Harbor District. The other half is put back into next year's haunted manor. Holcomb said she and her husband want to buy their own sound equipment.
Eventually, Holcomb said, she and her husband want to get into designing their special effects props.
"We buy medical-grade skeletons that are factory seconds," she said. "They're anatomically correct and then we gore them and corpse them and spend a lot of money and energy creating the props."
David's Haunted Manor starts at 6 p.m. tonight for small scares at 201 Citizens Dock Road in the Crescent City Harbor.
Big scares are 7 p.m.-9 p.m. It will also be open Saturday through Sunday; Oct. 25-27; and Oct. 30-31. The Haunted Manor will be open to 10 p.m. on Halloween. Admission is $5 for children under 12 and $10 for adults.
Holcomb said volunteers are also needed. Those interested can call her cell phone at (707) 954-8374.
---
SHARE →
---