---
Jessica Cejnar / Friday, Nov. 15, 2019 @ 4:11 p.m. / Community
Santa's Workshop Allows Youngsters To Receive, And Give, This Holiday Season
---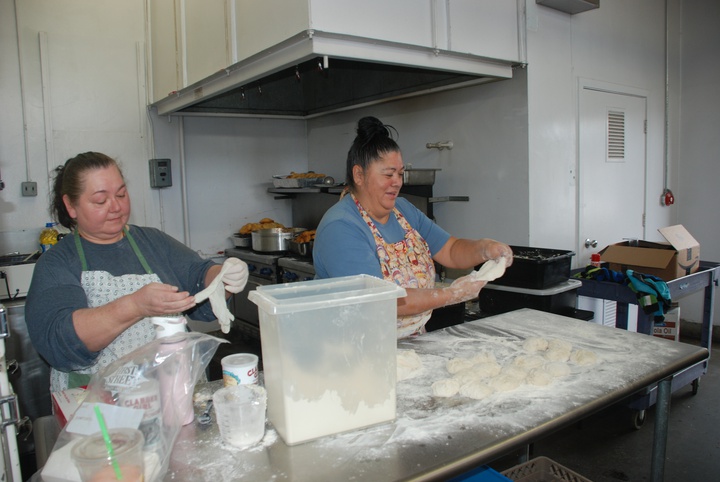 Flour clung to Debbie Bruschi's hands and dusted her apron.
Bruschi and fellow volunteer, Teri Davis, flattened the dough, lowered it into oil that popped and crackled and set the golden brown disk aside.
Once it cooled, Bruschi smothered it with beans, shredded lettuce, onions, tomatoes, cheese, sour cream and salsa. For those who wanted something sweet, Cori Allen, school secretary of Sunset High School, slathered the fry bread with butter and either sprinkled cinnamon and sugar on top or spread on some jelly. Bruschi, Allen, Davis and the other volunteers were only 45 minutes into an Indian taco fundraiser for Santa's Workshop at the Del Norte County Fairgrounds on Friday and they already had 66 orders.
"Hopefully we'll make about 400 or 500," Bruschi told the Wild Rivers Outpost. "Anything to help kids in this community is awesome."
On the other side of town, Rural Human Services employee Trish Hughes — also known as Ms. Claus — accepted applications from parents signing their children up for the gift-giving program. She said she's been working for Santa's Workshop for about seven years and has spearheaded it for about two to three years.
For about 16 years, Santa's Workshop was spearheaded by "Head Elf" Ron Phillips, who recently retired from RHS.
Parents were able to sign their children up to receive presents on Tuesday, Hughes said. The program will be accepting applicants from all over Del Norte County through Dec. 13 at the old Daly's building, 964 3rd Street in Crescent City, she said. Volunteers will wrap gifts and distribute them in Crescent City on Dec. 19 and 20 and in Smith River and Klamath on Dec. 21, Hughes said.
"It's an invaluable program to the community," Hughes said, adding that it provided 1,200 kids with gifts last year. "It's all about the kiddos big time."
In addition to the Indian taco fundraiser, there will be plenty of opportunities for community members to ensure Christmas is jolly for Del Norte's youngsters. This includes finding "giving trees" decked with fluorescent pink and orange mittens at Walmart, Walgreens and local banks.
According to Hughes, rather than having parents list gift items their kids are interested in, this year the presents will be a surprise. The mittens will have the child's gender and age like in previous years, she said. They will also carry the child's shoe and clothing sizes and indicate whether the youngster is from Klamath, Smith River or Crescent City.
Santa's Workshop also partners with Curt Lunsford of Toys For Tots, Hughes said, adding that there will be plenty of boxes scattered throughout the community for people to drop an unwrapped toy into.
Hughes said a Quarter Craze Auction, a fundraiser that involves bidding on items from local businesses and is held at Elk Valley Rancheria, will be scheduled for next month.
Shawna Grimes, who signed her three children ages 4, 5, and 7 up for Santa's Workshop, said having the gifts be a surprise works out well for her family. If one of her children gets something they're not interested in, she said, they put it on the "gift shelf" to pass along to someone who would like it.
Grimes, whose mother runs the RHS food bank, said she's been volunteering for Santa's Workshop for about seven years. She said it's the only way her youngsters get a Christmas.
"It's good karma to help," she said. "Growing up here, it's always been a really big program."
Santa's Workshop provides youngsters with the opportunity to give a gift to their loved ones as well.
RHS partners with the local Rotary club for Shop With A Hero, which pairs kids with local law enforcement, firefighters and other first responders to pick something special out for a parent, sibling or other family member. Hughes said this year they'll be taking 8, 9 and 10-year-olds shopping with a hero at Walmart next month.
After seven years, Hughes said she continues to be impressed by Del Norte's generosity and warmth. She also hopes people won't hesitate to reach out if they need help.
"I want people to understand that we are here," she said. "Do not be proud. If you need help, we are here."
---
SHARE →
---