---
Jessica Cejnar / Tuesday, Nov. 12, 2019 @ 4:32 p.m. / Community, Local Government
Supervisors Split Juvenile Hall Parcel To Allow Cannabis Retailer To Stay In Business
---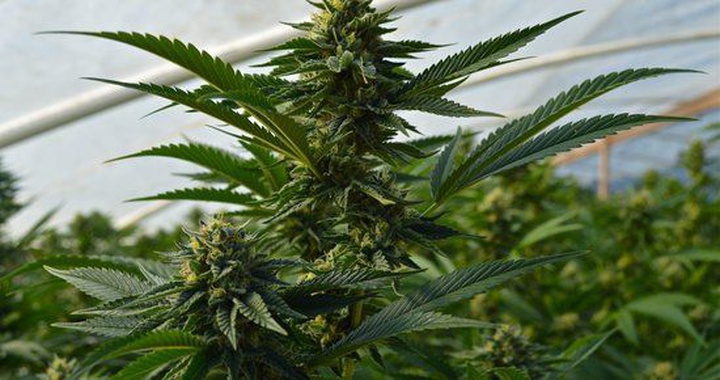 County supervisors addressed public concern that Del Norte's sole cannabis retail outlet is too close to juvenile hall by directing staff to split the parcel that houses the detention center.
Supervisors unanimously agreed to this move after Deputy County Counsel Joel Campbell-Blair said Tuesday that the state-mandated buffer of 600 feet between a cannabis retailer and a school is measured from parcel line to parcel line.
Sticky Grove, at 1071 U.S. 101 North in Crescent City, is about 450 feet as the crow flies from the juvenile hall facility's parcel line, Campbell-Blair said. It was "not in anybody's mind" that the detention center served as a school when proprietor Robert Derego obtained a use permit from the county planning commission in February, Campbell-Blair told supervisors.
When Derego returned to the planning commission to renew his permit, Campbell-Blair said staff would recommend denial because Sticky Grove is within 600 feet of juvenile hall.
"There's a couple of questions," Campbell-Blair told supervisors. "One is, does the board want staff to try to fix it so Robert doesn't have to move, and if so, how? Another way to do it would be to either reduce the set back from a school for all retailers and that would be open to all schools. Or we can try to finesse something in our code so only this school is treated differently."
The Board's decision to split the juvenile hall parcel to ensure Sticky Grove complies with state law comes after supervisors directed Campbell-Blair to expand the county's Cannabis Combining District to include Smith River both inside and outside the coastal zone. That Oct. 22 decision also relaxed the buffer zone between a cannabis retailer and a school from 1,000 feet to the 600 feet state-mandated minimum.
County resident Eric Neff brought his concerns about Sticky Grove to supervisors' attention in September. On Tuesday, Neff said he would pursue a determination from a judge on whether Sticky Grove can continue to operate near juvenile hall.
Derego said the maps he used to convince the county planning commission to allow him to operate stated that juvenile hall, at 1115 Williams Drive, was a school — McCarthy Center — but it no longer operated.
Google Maps now states that Elk Creek School operates at 1115 Williams Drive, Derego said. He said he thought that might be an issue "later on."
"I believe the detractor in my case is affiliated with the dispensary on Northcrest (Drive)," he said. "It's a little bit of retaliation."
Patti McCauley was the person hoping to open a cannabis retail outlet on Northcrest Drive, going before supervisors at previous meetings for a variance or a change to the county's cannabis ordinance. On Tuesday, she said she just wanted what's fair and noted that one objection to her business was that it was close to a church that operates a school.
"My pre-existing business is over 3,600 feet from a public school where children come and go," she said. "The church where they're saying there is a discrepancy is a closed campus, just like juvenile hall. Less than seven students attend that facility. They don't come and go. If it's good to make one amendment in a closed campus, it should be good for the other one too."
When District 1 Supervisor Roger Gitlin asked the county's chief probation officer his opinion, Lonnie Reyman said Sticky Grove presents no more risk to his charges than nearby Y Liquor does.
County supervisors agreed with Campbell-Blair that the logical way to ensure Sticky Grove is complying with state law is to split the property that juvenile hall sits on.
County resident Linda Sutter asked if supervisors wanted to "set a precedent by looking for loopholes." But Campbell-Blair said changing the county's ordinance reducing the buffer zone to less than the state mandate would be the "loophole option."
"We're fully in compliance with the state's minimum normal default of 600 feet," he said, adding that when split, the remaining property "has no functional relationship to juvenile hall anyway."
According to Board Chair Lori Cowan, McCarthy Center is operated under the Del Norte County Office of Education on Harding Avenue.
---
SHARE →