---
Jessica Cejnar / Friday, July 26, 2019 @ 4:22 p.m. / Community
Putting the Pieces Together: Local Artists Install Sign at DN Airport, Eye Mural At Harbor
---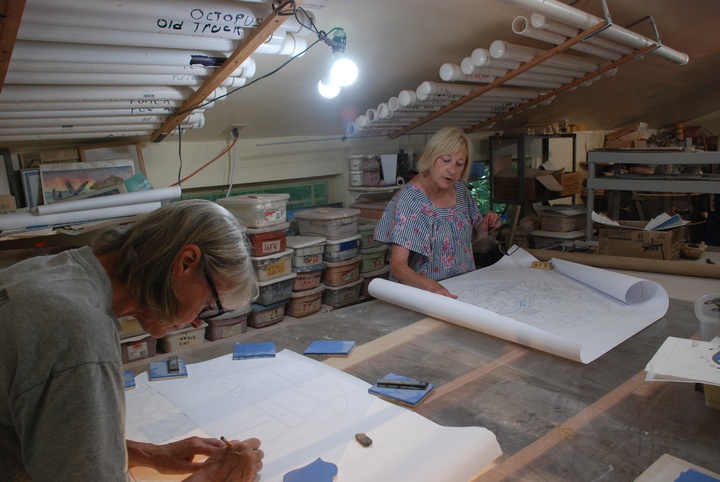 Crescent City is better known for its lighthouses and towering redwoods, but there's one thing it has more of than anywhere else; students create them in Harley Munger's Elk Valley Road studio.
From the black Labrador at the dog park and dolphins at the swimming pool to St. George Reef Lighthouse at the high school, Del Norte County has more ceramic puzzle mosaic murals per capita than any other community in the United States, Munger said.
"Piece by Piece Pottery has got about a quarter of a million dollars of public art out there that we've done," he said. "No one out there knows it. There's lots of painted murals out there, but puzzle mosaic. Everybody uses square tiles or broken tiles and glues them on."
Piece by Piece Pottery's latest creation will welcome travelers headed into Del Norte County on a Contour Airline jet. Consisting of 900 blue and white tiles, the monument sign at the airport features three towering redwoods and three swooping jets. It'll read "Del Norte County Regional Airport: Where the Redwoods Meet the Sea" when it's finished, said Jill Munger, Harley's wife and co-founder of Piece by Piece Pottery.
Though Piece by Piece Pottery is the Mungers' brainchild, each mural is created by students.
"I never do it myself," Harley Munger said.
Though ceramic puzzle mosaic murals can be found on countless buildings throughout the county, Jill Munger said she "wouldn't rest" until she and her husband could install one at the airport's new terminal. Her desire became a reality at a chance meeting with retired Border Coast Regional Airport Authority program manager Susan Daugherty about a year ago.
Harley Munger and students Laura Haban, Cynde Landrith and Babette Rose worked on the piece at his studio, finishing it in March. They began installing it about a week ago.
"We were like rock stars out there," Jill Munger said. "People were hanging out with their surf boards tootin' and screamin' (about) how great it was. You'd think nobody saw any of our projects ever before."
Daugherty said its lettering still has to be installed. She also hopes to have the cobblestone-like base at the bottom done by next week.
The sign's design, which closely resembles the shape of the new terminal building, was completed years ago by Alta, a subcontractor of the airport authority's environmental consultant GHD, Daugherty said. She said she and her colleagues had considered making a few minor changes, but ultimately decided to keep the design.
The only change were the three planes, Daugherty said.
"Contour provided Harley Munger with the outline of what the jet's like," she said. "It's what they use on their advertisements."
Daugherty said she's hoping that a dedication of the sign can be planned once it's finished, but that would be up to the current airport manager.
With the airport sign nearly finished, Harley Munger is already thinking about Piece by Piece Pottery's next public art project. He said he's pursuing a grant through Coast Central Credit Union to install a fifth mural at the Crescent City Harbor.
"It will be two porpoises coming out of the water creating a heart," Harley Munger said. "It's a smaller one. It's only about six-foot by six-foot."
Harley Munger said he brought the idea to Harbormaster Charlie Helms who took it before the Board of Commissioners. Munger said if he is awarded the grant through Coast Central Credit Union, the harbor will provide a metal frame and personnel to help him mount the mural on two wooden posts near its commercial boat basin.
The grant is due by Aug. 31, Harley Munger said. It will take six to eight weeks to find out if Piece by Piece Pottery received the grant, he said.
Though his school is currently full, Harley Munger said anyone can be a student.
"Give me $200 and pick a time," he said. "That's pretty much it — $200 a semester."
Munger's classes coincide with Del Norte Unified School District's schedule. The next series of classes start the last week of August and include morning and evening sessions. He said he begins each class with a mural and then students can experiment with anything they want.
"The patterns are already made and I do that just so at the end of the semester you have something nice that's completed and finished," he said. "I introduce you to different equipment and glazes and the process and then after you make one of those, you can do whatever you want to do."
---
SHARE →
---