---
Jessica Cejnar / Wednesday, Dec. 4, 2019 @ 7:54 p.m.
UPDATE: Parolee-at-Large Surrenders To Law Enforcement After Five-Hour Standoff In Fort Dick Area
---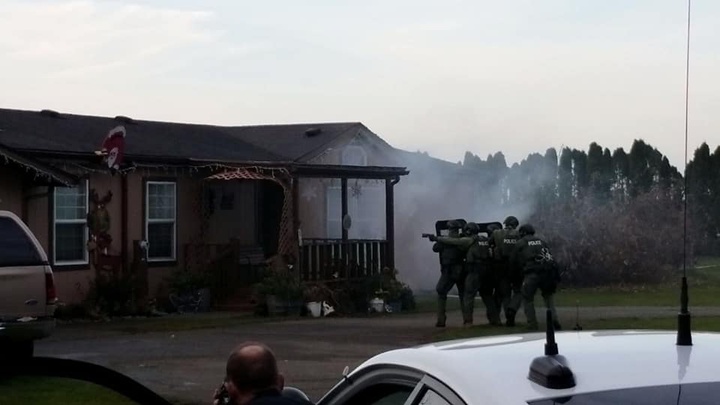 A parolee-at-large is in custody after engaging law enforcement from multiple agencies in a stand off that lasted more than five hours in Fort Dick on Wednesday.
After deploying gas and isolating Ronald Berry to the foundation of a three-bedroom home on Bolen Lane, deputies used a chain saw to cut a hole in the living room floor, Del Norte County Sheriff's Cmdr. Bill Steven told the Wild Rivers Outpost.
Berry came back up through the same hatchway in a bedroom close the used to access the home's foundation area and was taken into custody at after 7 p.m., Steven told the Outpost.
"We didn't deploy the dog because of the possibility he could be armed," Steven told the Outpost at about 7:30 p.m. "From underneath the floor there, we did find several hand guns and rifles, some of which were stolen, so we didn't know if he had one on hand. At the point in time he gave up, he did not have any weapons on him."
Berry, who has been a parole-at-large since he was released from prison and failed to check-in with his officer in 2015, allegedly tried to run over two Del Norte County deputies and a probation officer with a farm implement, Steven told the Outpost. Law enforcement were called to the area at about 1:30 p.m. after Berry allegedly got into a dispute with a neighbor.
Berry has three warrants out of Curry County, and though Steven told the Outpost he didn't know what they were for yet, they're extraditable. Berry was also involved in a pursuit with the California Highway Patrol two or three days ago that ended near Bolen Lane, Steven said.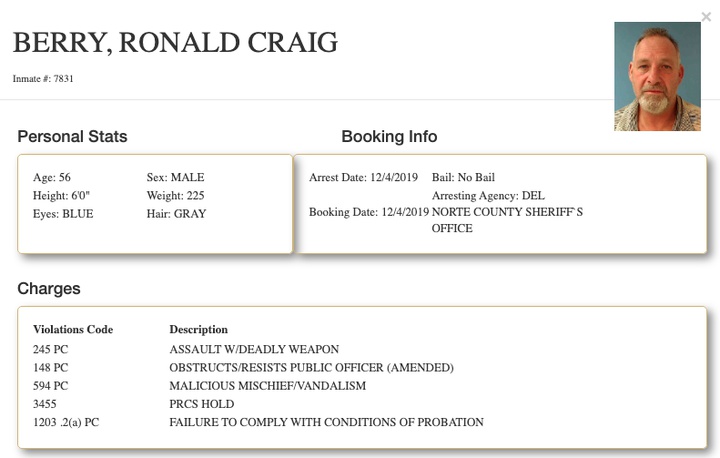 Someone known to Berry owns the house he barricaded himself into and he has permission to be there, Steven told the Outpost earlier Wednesday afternoon.
In addition to the Del Norte County Sheriff's Office, the Del Norte County Probation Department, the Crescent City Police Department, California Highway Patrol, National Park Service rangers and law enforcement with the California departments of Fish and Wildlife and State Parks helped get Berry to surrender, Steven told the Outpost. Pelican Bay State Prison's Community Emergency Response Team and Fort Dick fire also provided help, Steven said.
There were no injuries, though Berry was taken to Sutter Coast Hospital to get checked out, Steven said.
"It looks like he's fine," Steven said.
Someone known to Berry owns the house he has barricaded himself in and he has permission to be there, Steven said.
The case is still under investigation, according to Steven.
---
SHARE →
---