---
Jessica Cejnar / Tuesday, Aug. 6, 2019 @ 5:05 p.m. / Community, Infrastructure, Local Government
Crescent City, Elk Valley Rancheria Pursue Funding For Front Street, Water Tank Projects
---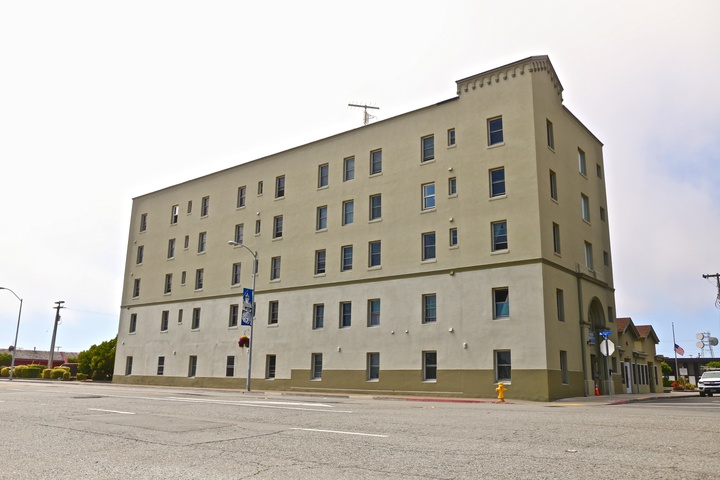 Crescent City and Elk Valley Rancheria staff are hoping a second attempt to obtain roughly $15.8 million in federal grant dollars to revitalize Front Street will prove successful.
Though he called Front Street the spine that connects Downtown Crescent City to Beachfront Park, City Manager Eric Wier said it doesn't meet the community's current need.
In a presentation before Councilors on Monday, he described long-term plans to make the street safer for motorists and pedestrians and more attractive to tourists by incorporating a "Crescent City: Where the Redwoods Meet the Sea" theme.
Completing the project would cost about $20 million, Wier said. To get the project started, the city, with help from Elk Valley Rancheria, is pursuing a 2019 federal Better Utilizing Investments to Leverage Development (BUILD) grant for $15,798,057. Crescent City also hopes to use a $5 million Community Development Block Grant to help pay for the Front Street revitalization project, according to Wier.
Elk Valley Rancheria paid $10,000 to help the city write the BUILD grant application last year, Wier said. Staff submitted the application July 14. Wier said the U.S. Department of Transportation will announce the winners in October or November.
This will be the second time the city and Elk Valley Rancheria submitted a BUILD grant application for the Front Street revitalization project, Wier said.
"It's not easy to write," he said. "It's time consuming, complicated, technical and very competitive. Only five applications were approved in the State of California last year."
The city has been discussing revitalizing Front Street since at least 2003, Wier said. An overall theme was approved in 2012. Critical features of the redesign include reducing the current 5-lane road down to two, enabling pedestrians to cross the street in roughly 9 seconds rather than the current 19.2 seconds, he said.
An archway at the east side of the street would let people know they're entering a special area, Wier said. There would be places to park near the Cultural Center and Beachfront Park's soccer fields and amenities for pedestrians.
At the intersection of H Street near the Surf Apartments, Front Street would "meander," Wier said. There would be space for art and landscaping and room for bleachers and vendors during parades, he said. Signs would also point visitors to Battery Point Lighthouse and other local attractions.
Another aspect of the Front Street revitalization includes letting visitors know what to do in the event of a tsunami, Wier said.
"At key intersections you'll have the tsunami symbol and an arrow showing which way to go," he said. "The warning siren is another piece. When the siren goes off, how many people really know what that means? Unless you're local, you probably don't. With this it's an actual PA system, a voice warning system."
Wier said the idea for a voice warning system in the event of a tsunami came from Crescent City's Sister City, Rikuzentakata, which is rebuilding following the 2011 Tohoku earthquake and tsunami.
The Front Street master plan had also included a roundabout with art of a breaching whale at the western end, but due to the cost — about $3 million to $4 million — staff decided it would lessen city and tribe's ability to compete with other BUILD grant applicants, Wier said.
To be eligible for the grant, Wier said the city has had to show that the project has public support. He also noted that environmental reports are completed. And since the Elk Valley Rancheria has completed roughly $4 million in capital projects and the city has finished $6 million in capital projects, they can show that both entities will be able to get the Front Street revitalization project done, Wier said.
Revitalizing Front Street coincides with a previous project paid for by a $5 million Community Development Block Grant to increase storm drain capacity, according to Wier. The new storm drain will go through Beachfront Park and include a new outfall area. Wier said it would relieve flooding in the C Street areas and possibly F Street.
"(It) also improves storm drain capacity and pipelines as it runs between B Street and G Street," he said.
City staff are currently in the design phase for that project, Wier said. According to Public Works Director Jon Olson, the project will be out to bid in November.
Since storm drain project is in the city's coastal zone, Wier said staff are still working on getting approval from the California Coastal Commission.
City Councilors were unanimous in their support for the Front Street revitalization project. Councilor Jason Greenough called it the "crown jewel of our community."
"When people come into town, they'll be able to look down Front Street and just see what our community is about," he said.
Crescent City Mayor Blake Inscore said he was a planning commissioner when the Front Street Revitalization master plan was approved. He praised the city's ongoing partnership with Elk Valley Rancheria, noting that the tribe also helped purchase a new fire engine.
"I don't think we can say enough about the value we have received from the partnership with Elk Valley Rancheria," Inscore said. "There are no words to express that because we're actually seeing things some of us have watched for years….I'm ecstatic about this."
In other matters, the City Council unanimously approved an application for grant funding Elk Valley Rancheria submitted to the U.S. Bureau of Reclamation on Crescent City's behalf. This is for a rehabilitation project to the city's water storage tank on Amador Street. According to Wier, the project includes installing railings and hatches as well as completing structural work inside the tank. The tribe is seeking $972,000 in Bureau of Reclamation grant dollars, according to the city's staff report.
If the grant application is successful, the tribe and city will consider a memorandum of agreement outlining each party's responsibilities. According to the staff report, city staff would provide the design, spearhead the environmental review and administer and manage the construction contract.
The tribe will be the grant administrator and shall contribute $809,204 to cover the costs associated with the project, according to the staff report.
Inscore noted that the City Council approved a water needs program about three years ago. When he was elected, Inscore said he toured the city's critical infrastructure.
"We addressed some of those things then that were critical things that needed to be addressed," he said. "We're still trying to figure out how to do that through partnerships."
The Amador storage tank was built in 1982. The tank is about 80 feet in diameter, 40 feet high and has a storage capacity of 1.5 million gallons, according to the staff report.
---
SHARE →