---
Jessica Cejnar / Monday, Aug. 5 @ 4:58 p.m. / Community
See What 200 Youth Did This Summer
---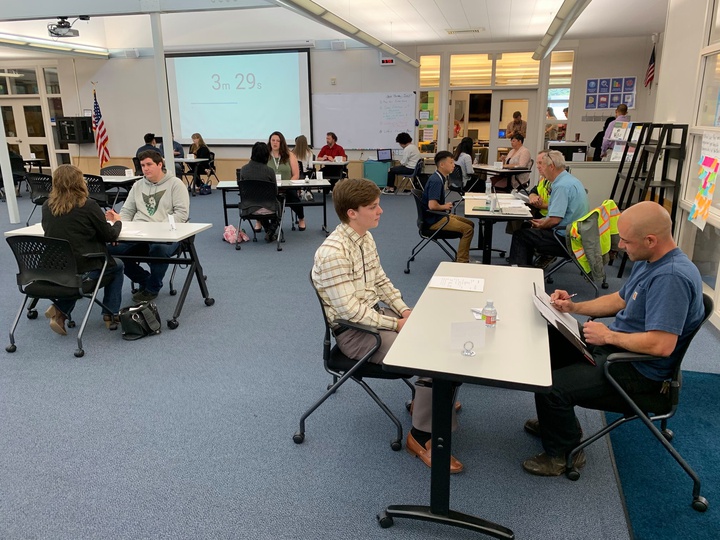 More than 200 young people who took part in local youth programs are eager to share what they've been up to this summer.
Building Healthy Communities Summer By Design Youth Showcase on Thursday will highlight work completed by students who took part in the Youth Training Academy and the E3 programs this summer.
The Del Norte Recreation Department will also share the activities youngsters in the Summer Youth Camp took part in. This includes engaging in arts and crafts, team building and sports programs as well as community field trips.
All three programs relied on participation from local businesses and nonprofit organizations to be successful, said Scott Graves, spokesman for Building Healthy Communities and the Wild Rivers Community Foundation. They also received grant dollars from the California Endowment, which started the Building Healthy Communities Initiative in Del Norte County in 2010.
"It's almost like a graduation," Graves said, adding that the showcase will include free dinner and childcare and will be open to the public. "It's more focused on programs and all the cool things they did."
This year roughly 120 young adults ages 15-24 participated in the Youth Training Academy, exploring eight career pathways ranging from early childhood education to mass communication. According to Graves, community partners who helped mentor the kids include representatives from the Del Norte Child Care Council, KFUG Community Radio and the Del Norte Community Food Council.
College of the Redwoods' Del Norte Education Center provided classroom space for many of the pathways in this year's Youth Training Academy, Graves said.
This year one of the more popular pathways focused on ecotourism and was spearheaded by Adam Spencer, owner of Redwood Rides.
According to Graves, 18 students took part in that pathway, learning the "ins and outs of being a river guide."
"They learn the business side of things as far as the equipment itself — the rafts — running the business," Graves said. "They spend a lot of time with actual paying clients showing the clients river safety. They guide these clients, anywhere from groups of two people up to six people and take them down the river 3 1/2 hours almost every day."
Another unique pathway focused on regenerative agriculture and was spearheaded by Ben Zumeta, of the Community Food Council. Youth in that pathway spent much of the time at the Crescent City Food Forest at CR, learning about self-sustaining agriculture. They also visited other community gardens to help with the harvest, Graves said.
This is the Youth Training Academy's eighth year, Graves said. When the program began it offered roughly five career pathways for young adults to explore, he said.
Another program that has grown since it began about three years ago is the E3 program. A partnership between the Del Norte Workforce Center and the Del Norte Office of Education, the program stands for Experience Education Employment and pairs high school sophomores, juniors and seniors with potential employers.
Participants start with a work readiness bootcamp, learning how to draft a resume and interview for a position before meeting with someone who may hire them, said Christy Hernandez, Workforce Center manager.
"How it works is that the youth are chosen during bootcamp week, during the speed interview round, by different worksites that are participating," Hernandez said. "They interview with the youth and choose who they would like to have at their place of business or organization. It's the worksites that are choosing the youth."
Employers participating in the program provide a contribution to the workforce center that would be the equivalent of an intern's hourly wage, Hernandez said. Internships are four weeks or six weeks long. The Workforce Center is then the employer of record handling workers compensation and payroll and feeding the participants during the business bootcamp.
Though they're not guaranteed an internship, students who take part in the program receive a $100 stipend and 10 elective high school credits, Hernandez said. Teachers involved in the program include Sunset High School Principal Tony Fabricius, Robyn Parker, Jeff Van Pelt and Jessica Phillips, Hernandez said.
"By attending Friday sessions, along with the bootcamp, they talk about different goals and businesses have guest speakers that come in," Hernandez said. "Kids are getting a hands-on experience and hopefully a reference they can put on applications or resumes down the line."
This year, nearly 50 students took part in the work readiness bootcamp, Hernandez said. Thirty-six of were part of the E3 program and 26 received internships, she said. The youth were employed at 20 different worksites, including the Crescent City Corporation Yard, finance, information technology and public works departments.
Other government agencies offering interns included the Del Norte County Fairgrounds, the Del Norte County Superior Courthouse and Del Norte County Unified School District. Local businesses offering internships include Sutter Coast Hospital, SeaQuake, Little School of the Redwoods and Fine Spine Chiropractic, Hernandez said.
"Last year there might have been 30 or a little less that came to our bootcamp, so we had a little more (this year)," she said. "Each year it grows by a little bit, which is great. I hope we can continue to have worksites for them."
In addition to offering the opportunity for older youth to be camp counselors and mentors, the Del Norte County Recreation Department's Summer Kids Camp kept about 75 youngsters in kindergarten-sixth-grade occupied, said recreation coordinator Kelsey Bozeman. The program started July 8 and ends Aug. 16. Youth can sign up for the entire summer, paying $250, or participate on a weekly basis, paying $50 per week.
"We want our youth to be able to experience the community and know the really awesome resources we have around us," Bozeman said, adding that Redwood National and State Parks representatives gave presentations and the Del Norte Office of Emergency Services recently conducted a tsunami walk.
The Tobacco Use Prevention Program conducts weekly activities and there are other activities.
"The (California) Redwoods Art Association does art with them on Wednesdays and every Thursday they go to the pool and go swimming as well," Bozeman said.
The Summer By Design Youth Showcase will be held from 5:30 p.m. to 8 p.m. in the Crescent City Cultural Center, 1001 Front Street in Crescent City. The event includes a free dinner and child care. To RSVP, click here or call (707) 465-1238.
---
SHARE →
---