---
Jessica Cejnar / Friday, Aug. 30, 2019 @ 4:10 p.m. / Environment, Science, Wildlife
Despite Strong Harvest To The South, Commercial Salmon Season Slow In Calif. Klamath Management Zone
---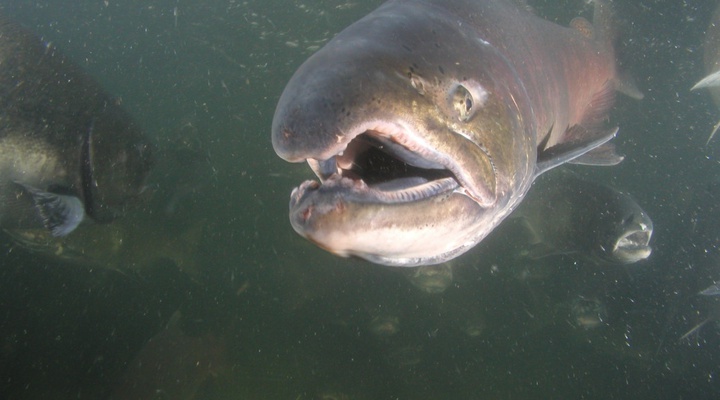 Though this year's commercial salmon harvest has been better than forecasted in the Morro Bay, Monterey and San Francisco areas, the same can't be said for the catch in the Klamath Management Zone.
Commercial fishermen were 734 chinook shy of meeting the August quota in the California Klamath Management Zone, between the Humboldt south jetty and the Oregon border, according to the California Department of Fish and Wildlife. Though the exact numbers aren't available yet, scientists say they have seen a more southern distribution of fish this year.
"Fisheries have been stronger in the Morro Bay, Avila and San Francisco areas, although we don't know for certain why that is," said CDFW environmental scientist Kandice Morgenstern. "We can be speculative in that fish will tend to go where ocean conditions and prey abundance is better, so it's likely that environmental conditions are better on that section of coast."
Commercial vessels had a daily landing and possession limit of 15 chinook per boat, according to the CDFW. The minimum size limit is a total length of 27 inches.
This year's forecast for the Klamath River fall chinook run was about 274,000 adult salmon, Morgenstern said. That's somewhat fewer than last year's forecast, but significantly above what was anticipated in 2016 and 2017. An improved abundance was also forecasted for Sacramento River chinook as well, Morgenstern said.
But, Morgenstern said, whether there is a more southern distribution of fish or whether they're simply not there is unknown at this point. She said scientists won't be able to assess how the populations are doing until they begin to migrate upriver, which typically starts in September.
On Aug. 22, the Associated Press, quoting Morgenstern, reported that commercial salmon catches have surpassed official preseason forecasts by 50 percent with strong harvests in Morro Bay, Monterey and Sacramento.
The rebound comes after three years of low catches that resulted from poor ocean conditions and the state's five-year drought. As a result, federal fishery disasters were declared in 2018, providing relief to fishing communities in California, Oregon and Washington, the AP reported.
According to Noah Oppenheim, the season was set up based on the abundance of fish in the ocean. The Sacramento River stock is healthy this year, he said.
"The Klamath stock is not very healthy," he said. "The opportunity is limited to the north and that's what we expected going into the season."
On Thursday, with a 15-fish-a-day catch limit and two days left, Eureka fisherman David Helliwell said there's no way commercial vessels will reach the August quota. The reason is a lack of fish, he said.
"It appears the body of fish just went south this year all the way to the Channel Islands and they never came up here," he said. "I've been doing this for 50 years and I've never seen a season where the fish never showed up at Fort Bragg."
Typically most of the salmon harvest is found north of Monterey, Helliwell said. It's unusual to find them as far south as the Channel Islands, though occasionally a few fish will find their way down there, he said.
Helliwell said he was also concerned about how the distribution of this year's fall chinook will affect future seasons. The Pacific Fisheries Management Council bases the commercial season on the number of jacks, or young, salmon entering the river, he said.
"They use the jack counts coming up the river to estimate what the population's going to be the following year and design a season on that," Helliwell said.
Helliwell said he and other fishermen look forward to finding out what percentage of Klamath River salmon were caught in the southern part of the state.
---
SHARE →