---
Jessica Cejnar / Thursday, Aug. 29, 2019 @ 4:58 p.m.
Rx Safe Del Norte Begins Community Meetings Focusing On Root Causes, Solutions To Local Opioid Abuse
---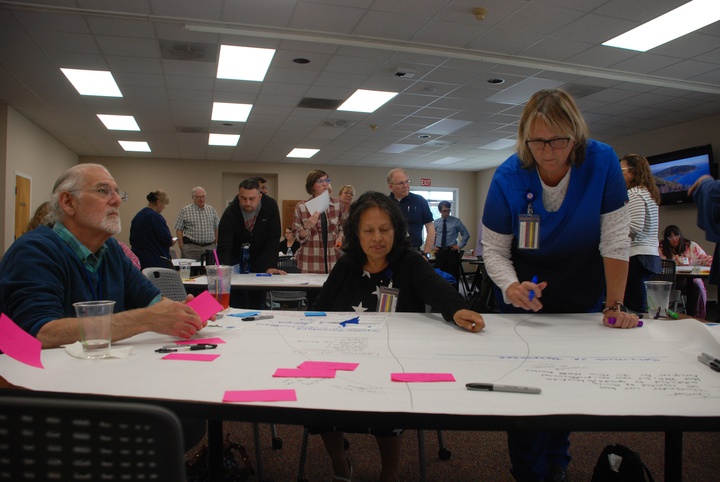 Meet Junior.
Junior is transitioning from male to female, has been rejected by family, is addicted to opioids and is an alcoholic. Since coming out, Junior has divorced and been separated from her children. She's currently a caregiver with In-Home Supportive Service and has been stealing her clients' medication to cope with being ostracized from her family and the community.
"She's resentful and self conscious; nobody likes her is her perception," said Hilda Yepes Contreras, site administrator for Open Door Clinic in Crescent City. "We thought the community needed a community educator to go out in the community and educate them, to get into schools, to teachers, to law enforcement and religious leaders on transgender and have more services, medical and mental health and legal, so that we can change the culture."
Junior was one of several fictitious sufferers of opioid addiction healthcare providers and local government representatives created at a brainstorming session hosted by Rx Safe Del Norte on Thursday. The meeting focused on addressing the root causes of opioid addiction in the community.
Thursday's meeting was the third brainstorming session held since Rx Safe Del Norte received a $75,000 grant from Center for Care Innovations' Addiction Treatment Starts Here: Community Partnerships program, coalition facilitator Jermaine Brubaker said. The previous two meetings were made up primarily of people who have experienced opioid addiction, she said.
The Rx Safe Del Norte Coalition plans to hold more brainstorming sessions to figure out the best way to address opioid addiction in the community, Brubaker said.
"You may think you don't have the answers, but you might be surprised at what we do have," she said. "We want to make sure we're on the right track and have heard what you've said."
In Del Norte County, those struggling with opioid abuse are likely to be older and be addicted to multiple substances, according to Brubaker. She said visits to the emergency room are a factor in opioid abuse locally and there are more opioid prescriptions issued than people living in Del Norte County.
However, Brubaker said, there were no local deaths from opioid abuse in 2018. Six people died due to opioid abuse in 2017, she said.
To combat local opioid abuse, Rx Safe Del Norte met for the first time in March and used money from the California Department of Public Health to obtain 300 doses of Naloxone, the drug that can block the effects of an overdose. The coalition created 140 kits with two doses each and trained people in Smith River, Klamath and Crescent City to administer them.
Aegis Treatment Centers provided the funding for the trainer who taught folks how to administer Naloxone. Rx Safe Del Norte began pursuing the Center for Care Innovations grant as the Aegis dollars began tapering off, according to Brubaker.
Center for Care Innovations, based in Oakland, launched its Addiction Treatment Starts Here program in May through grant dollars from the California Department of Health Care Services. The Oakland-based nonprofit chose Rx Safe Del Norte and three other California coalitions to take part in its program.
According to its website, Center for Care Innovations' Addiction Treatment Starts Here: Community Partnership supports collaborative approaches to addressing opioid abuse from healthcare providers, public agencies, first responders, local residents and other organizations.
Center for Care Innovations is one of several recipients of a grant from the California Department of Health Care Services to address opioid abuse, said Jennifer Wright, the non-profit's improvement advisor.
Though she said she needed approval from the department before giving a statement to the media, Wright said CCI is hoping to support work coalitions have already done to address the issue.
According to the organization's website, the 16-month learning collaborative will last through September 2020.
On Thursday, Yepes Contreras and Kay Vail, clinic coordinator at Open Door Clinic, said increasing awareness of opioid abuse in Del Norte County is important.
Yepes Conteras noted that Open Door Clinic is committed to addressing the crisis and said she doesn't think people realize the history of how it started.
"Twenty years ago, the American Medical Association said no matter what, 'take care of pain.' All medical providers, that's what they were doing," she said. "Now the pendulum has swung the other way and we have all these people addicted to opioids. Now we're seeing that they're addicted, we're trying to cut back on their medications. They think it's our fault and it's not our fault."
Though it's just the third in a series of six focus groups, Brubaker said she's beginning to see some themes "bubbling up."
"We'll get those themes together and look at that as a coalition to see what things we feel like we can move forward on," she said. "We'll bring them back to the community to get more feedback (before) then moving forward."
Rx Safe Del Norte meets from 1 p.m.-3 p.m. every third Monday of the month at Open Door Clinic, 550 E. Washington Boulevard in Crescent City.
---
SHARE →
---