---
Jessica Cejnar / Friday, Aug. 16, 2019 @ 3:29 p.m. / Community, Crime, Education
Leadership Academy Gives Youth Taste of Cop Life
---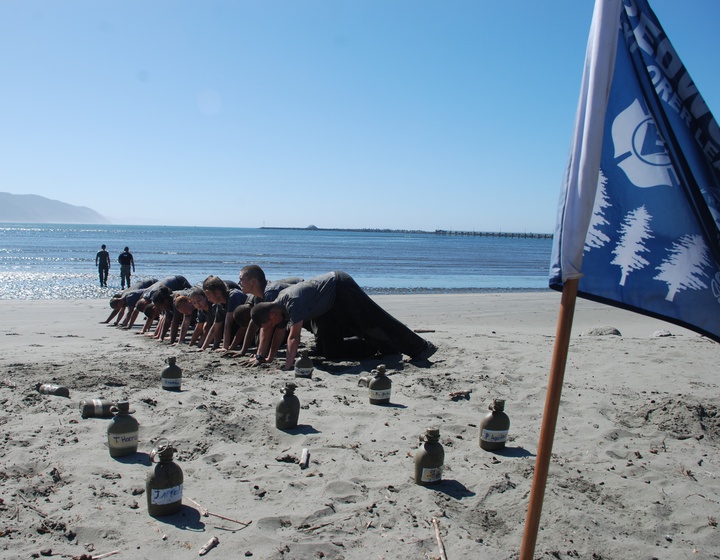 Sgt. DJ Milligan looked on as his charges, eyes clenched shut, created a "sandstorm" at the beach near Howe Drive.
"Are you motivated yet?" Milligan shouted before sprinting into the surf. "You guys motivate us!"
Sand and dust clinging to their face, 12 cadets in this year's Redwood Coast Explorer Leadership Academy constructed a house using their bodies. With the tide coming in, they inched toward their drill instructors, crawling on their bellies through a tunnel of their peers.
Friday's "picnic on the beach" capped a week of intensive training for this year's academy that included active shooter and rope rescue scenarios, instruction in First Aid and CPR and experience in chemical agents. Following a written exam and a final physical conditioning test — the same one law enforcement agencies use statewide — the cadets will graduate on Saturday, said Jerron Gill, a sergeant with the Del Norte County Sheriff's Office.
"They've been woken up by their DIs at 6 a.m.," he said. "They've had very long days. They're really tired. They're running on low levels of sleep, but they're highly motivated."
Del Norte County Sheriff Erik Apperson started the Redwood Coast Explorer Leadership Academy in 2003. Though Gill took over running the academy when Apperson was elected to the office in 2014, the sheriff is still involved, making daily appearances to encourage the cadets.
Fifteen recruits began this year's academy, ranging in age from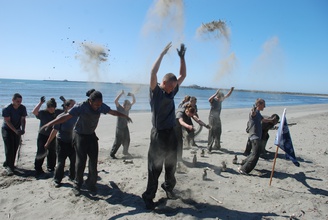 12-17, Gill said. Cadets as old as 20 are allowed to participate in the academy, he said.
Of the 12 that were left on Friday, most participate Del Norte County Sheriff's Office's Explorers Post 911, Gill said. Two kids came from the Eureka Police Department's Explorers group. Five are not yet associated with a program, though Gill said all are interested in joining.
"They get a taste of what it's like to be an Explorer," he said.
Del Norte's Explorer's program meets the first and third Wednesday of the month, teaching cadets what a career in law enforcement would look like. Explorers also help with parking at local events such as Sea Cruise and the Crescent City Triathlon, Gill said.
Though most participants in the Explorer Academy and the Explorers program go on to careers in law enforcement, cadets can use the skills they learn in any job, Gill said.
His colleague, Pelican Bay State Prison correctional officer, Nate Trinn, noted that Crescent City Councilor Alex Fallman went through the Redwood Coast Explorer Leadership Academy several times.
Other local professionals are also academy graduates, Gill said.
By the end of the program, though many of the cadets are from other communities, they become a tightly-knit team, he said.
"They're the impressive ones," Gill said. "They're hard workers."
The Redwood Coast Explorer Leadership Academy graduation is open to the public and will be held at 3 p.m. Saturday in the Crescent Elk Auditorium, 994 G Street in Crescent City.
The Del Norte County Sheriff's Office Explorer Post 911 meets at 6 p.m. the first and third Wednesdays of the month. For more information, call (707) 464-0671.
---
SHARE →