---
John Ross Ferrara / Tuesday, May 26 @ 9:20 a.m. / Crime
Wanted Skinhead Gang Member Arrested on Homicide Warrant in Port Orford
---
A previous call for Appoldt's arrest by the U.S. Marshals Service.| KGET
A man wanted on murder charges in California was arrested in Port Orford last week.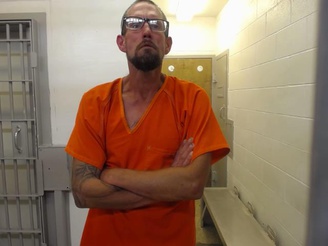 The U.S. Marshals Task Force reports that the suspect, 41-year-old suspect Eric Appoldt of Bakersfield, Calif., is a Skinhead gang member and that he was wanted in connection to a crime commited in Kern County, Calif. in February.
Read more on the arrest from the Curry County Sheirff's Office:
A widespread manhunt involving authorities in Oregon and California along with the U.S. Marshals Service was concluded on May 22nd around 5 p.m. when Curry County Deputies arrested Eric Appoldt, a 41-year-old male from Bakersfield, California.

Eric Appoldt was arrested on a homicide warrant following an incident in Kern County, California last February. His criminal history includes attempted murder, robbery and battery on a peace officer.

Appoldt was found to have family connections in Portland, Oregon and the Oregon State Police alerted Curry County Sheriff's Office to his warrant and potential presence in Oregon.

A Curry County Deputy used every resource available to our office to identify a potential location for Appoldt on Hensley Hill Road in Port Orford and worked in cooperation with our Deputies and the Oregon State Police to locate and apprehend Appoldt without incident while he was found walking on Hensley Hill Road with an adult female.

Appoldt was transported and booked into the Curry County Jail and will be returned to California to faces the charges against him.
---
SHARE →